Een eenvoudige daad van rechtvaardigheid - Een boek dat er gewoon moest komen
Wat hebben Jaco Groot, W.F. Hermans, Nicolaas Matsier, Erik van Zuylen, K. Schippers en Rudy Kousbroek gemeen? Zij correspondeerden met de Themersons en onderhielden soms nauwe contacten met hun Gaberbocchus Press.
Het in Polen geboren en in de Tweede Wereldoorlog naar Engeland gevluchte echtpaar combineerde denken, schrijven, schilderen en illustreren, vormgeven en filmen en gaf publicaties uit die in iedere zin opmerkelijk zijn. 'De verschillende Gaberbocchus-boeken hebben iets waanzinnigs dat het leven kleur geeft, een ingrediënt waar het in de wereld van keurige boekproducties nogal eens aan ontbreekt', schreef een criticus in 1956.
Biografie van een uitgeverij / Biography of a Publishing House. Stefan & Franciszka Themerson & Gaberbocchus presenteert optimaal de uitzonderlijke kwaliteiten van de Gaberbocchus Press van Stefan en Franciszka Themerson.
Geen bestsellers, maar 'best-lookers' zo formuleerden Stefan en Franciszka Themerson de onderliggende gedachte bij hun boeken. Alle zijn gebaseerd op drie significante karakteristieken: geïmproviseerde technieken en materialen, experimenten met de verhouding tussen tekst en beeld en de beeldende interpretatie van hun inhoud.
Vertaler Walter van der Star en grafisch vormgever Piet Gerards (hier in samenwerking met Stephan de Smet) zijn erin geslaagd met deze biografie van de Gaberbocchus Press op voortreffelijke wijze een oude wens van uitgeverij Huis Clos te realiseren. In deze biografie worden de zestig titels die de uitgeverij tussen 1948 en 1979 uitbracht beschreven. Elk boek komt aan bod, maar er is voor gekozen uitvoerig in te gaan op een aantal gezichtsbepalende en in het oog springende titels, waarbij de nadruk ligt op de combinatie van vorm en inhoud en hun onderlinge verwevenheid. Ook wordt uitgebreid stilgestaan bij de Nederlandse connectie met de Gaberbocchus Press. Jasia Reichardt en Nick Wadley, die de nalatenschap van de Themersons op zo'n voorbeeldige wijze voor vergetelheid behoedden, leverden elk een belangrijke tekstbijdrage.
De uitgave is in het Nederlands en het Engels.
A simple act of justice - a book that just had to come
Biografie van een uitgeverij / Biography of a Publishing House. Stefan & Franciszka Themerson & Gaberbocchus presents the exceptional qualities of Stefan and Franciszka Themerson's Gaberbocchus Press.
The Themersons, Polish-born, British couple, combined the disciplines of philosopher, writer, painter, illustrator, graphic designer, film-maker and publisher, produced publications that are remarkable in every sense of the word.
'There is a madness about various Gaberbocchus books which is the spice of life, an ingredient somewhat lacking in the world of impeccable book production', wrote a critic in 1956.
'Not best-sellers, but best-lookers' was how Stefan and Franciszka Themerson formulated the intention underlying their books. All of them are based on three significant characteristics: improvised techniques and materials, experiment with word and image and the imaginative interpretation of their content.
With this biography of Gaberbocchus Press, translator Walter van der Star and graphic designer Piet Gerards have fulfilled a long-standing ambition of the publishing house, Huis Clos. Sixty titles published between 1948 and 1979 are described. Every title is included, but we have chosen to concentrate our selection on the most defining and visually striking books, paying particular attention to the engagement of form with content. A special section is devoted to the links of Gaberbocchus Press with the Netherlands. The Themersons corresponded and in some cases maintained close ties with, among others: Jaco Groot, W.F. Hermans, Nicolaas Matsier, Erik van Zuylen, K. Schippers and Rudy Kousbroek. Jasia Reichardt and Nick Wadley, who have preserved the legacy of the Themersons for posterity in such an exemplary manner, each contributed an important article.

REACTIES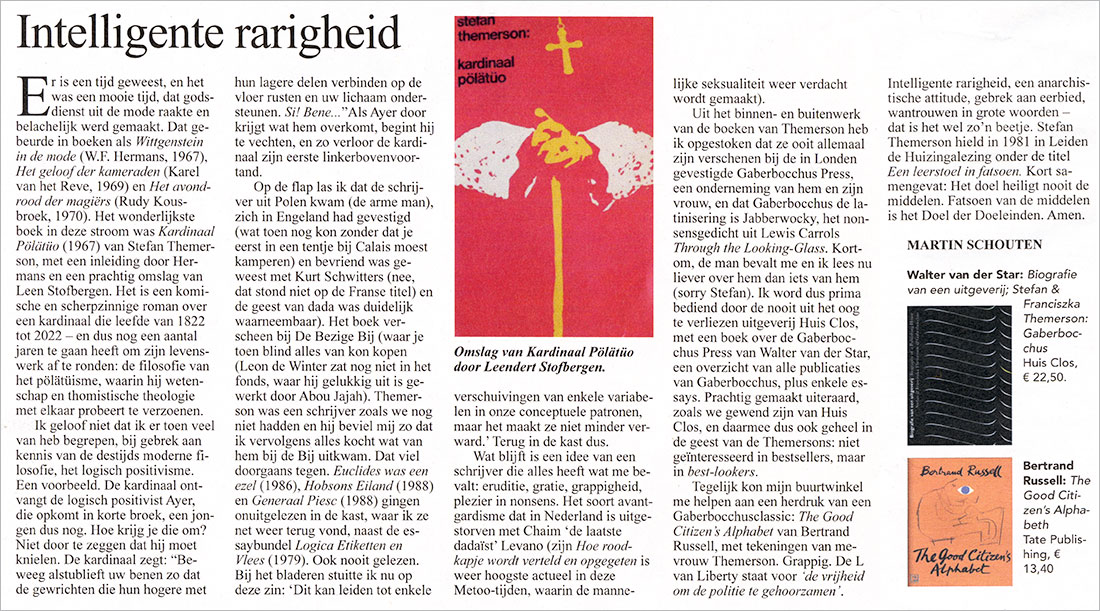 Martin Schouten in Argus, 9 januari 2018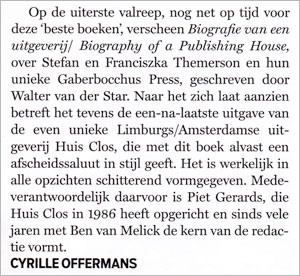 Cyrille Offermans in De beste boeken van 2017, De Groene Amsterdammer, 21 december 2017


Sytze van der Veen in De Boekenwereld, 2017 nr. 4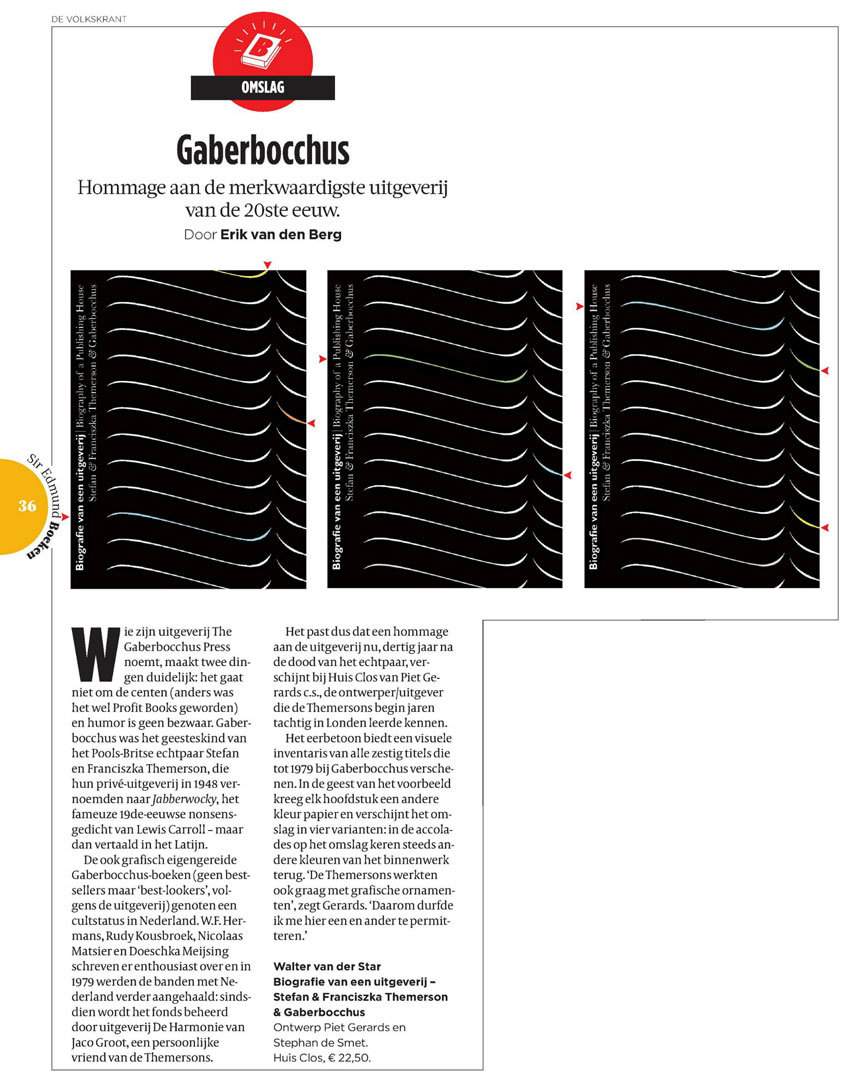 Erik van den Berg in de Volkskrant, 9 november 2017

Bespreking door Jan Dietvorst op de site van de Beurs van Bijzondere Uitgevers

Bespreking door Anna Maria Polidori op de site alfemminile.blogspot.nl

Bespreking door Carel Peeters op de site van Vrij Nederland